In the last couple of years, a vast array of streaming platforms have offered large libraries of movies for affordable prices. Amazon Prime Video outperforms competitors such as Netflix and YouTube, allowing users to rent or buy movies and TV shows on-demand. For people who have a lower budget for film watching, renting movies from Amazon is a cost-effective way to enjoy the same quality Prime movies at a lower price. If users want to watch a movie on Amazon for a longer duration of time, they need to purchase the film at a slightly higher price. Yet as everything has its merit and demerit, Amazon movie rental or purchasing also has its limitations.
There are a few important restrictions to note before downloading renting or purchasing movies from Amazon. For example, you can only download and watch the movies on the latest version of the Amazon Prime Video official app, which is only available for Android, iOS, Windows 10/11 and now macOS Big Sur or later. Besides, you can only keep the rentals for 30 days and once you start watching the film, you need to finish it within 48 hours. These restrictions may fail to meet the needs of users who want to truly own the movies and save the movie they paid for forever. The next part will show you the two ways to download Amazon videos to your device locally, and part two will enable you to truly get the paid Amazon movies and enjoy them without any device or period restrictions.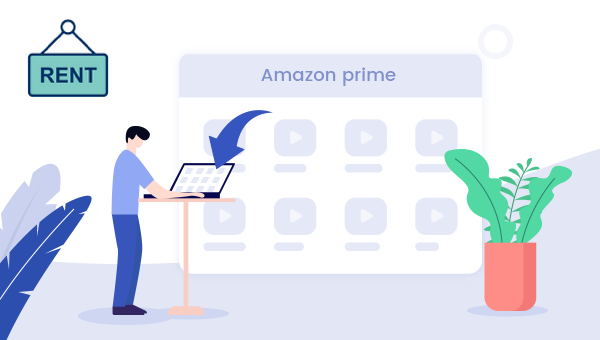 1. Common Method to Download Rented Video from Amazon
In the first part, we will have a look at how to download movies or TV shows via Amazon official apps. Before that, you should know clearly that only Amazon's selected titles are available for offline viewing. It includes most Prime Originals and anything distributed by Amazon. Additional content covered by copyright (from HBO, Starz, etc.) doesn't allow for downloads. What's more, Amazon has a limitation on the number of rented titles.
Users can only rent up to 3 videos on an Amazon account, so you can only download 3 rented titles across all the devices. To download more paid videos, you can purchase the title that exceeds the limit since there is no limit on the number of purchased movies. However, you don't have to purchase the rented movies and can save a lot when you are using the amazing tool called TuneBoto introduced in part two.
Detailed Guidance:
Step 1 Install the Amzon Prime Video apps from Amazon Official Website, run it, then sign in to your Amazon account.
Step 2 Before you start downloading, you'll want to configure your download quality setting.
On Android, navigate to My Stuff > Settings (gear icon) > Stream & Download > Download Quality.
On iOS, go to Settings > Streaming & Downloading > Download Quality.
Step 3 Search or browse to find the movie you want to download on the Home tab. And then tap on the movie and look for the download button.
Step 4 If the video is available for download, then you should see a download button with a down arrow. To download it, simply tap on the button or the download arrow.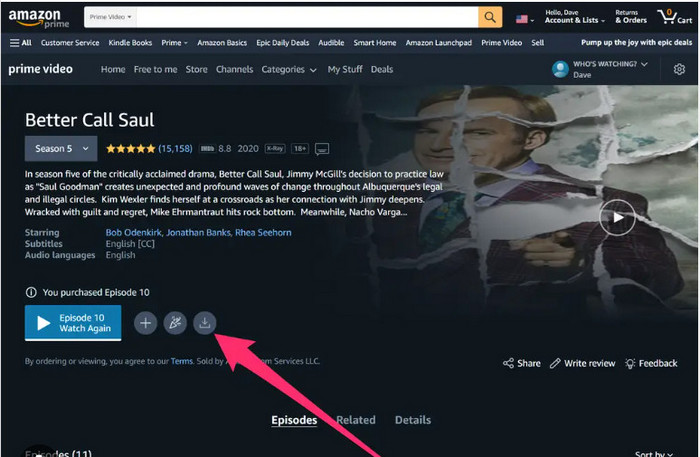 Once downloaded, you'll be able to find your movies in the My Stuff at the app's bottom. And then tap Downloads at the top. After that, simply tap on a video to start watching, even if you're not connected to the internet.
What's more, you can also just search the title you've already downloaded. Just type in the title and a checkmark should be on the far right side, which indicates that you've already downloaded this content and can play it offline. Next to the checkmark, a play button should be seen. Just tap on it to start watching your downloaded video.
Since there's a limit to the amount of content you can download, you may want to delete a download. To do so, just navigate to your downloads by tapping on the download icon on iOS or navigating to My Stuff > Downloads on Android. And then tap on the movie you want to delete > "Options" > "Delete Download". After that, the app will not take up a lot of space once you have watched rented movies.
---
Best Tool to Download Amazon Movies and Series – TuneBoto
The most annoying things people hate about rented Amazon movies are the period of validity and the device limitation. But don't worry, TuneBoto Amazon Video Downloader can remove all the limitations for you. With TuneBoto, you can watch the downloaded content without connecting to Wi-Fi even if your rented videos are expired on Amazon apps. Apart from downloading any rented or free Amazon videos as permanent local MP4 or MKV files on PC or Mac, TuneBoto Downloader also allows you to make your own choice to select and download multiple subtitles and audio tracks of different languages on its "Advanced Download" window.
Meanwhile, TuneBoto Amazon Video Downloader enables you to choose video quality from 1080P to 240P, and audio tracks between EAC3 5.1, AC3 5.1 or AAC 2.0 sound channels, which ensures you an outstanding audio-visual experience with video and audio quality. If you are an Amazon user, TuneBoto must be your best tool for enjoying Amazon paid or free content offline without limitations.
You may also be interested: Download Amazon Music to Computer | Amazon Music to MP3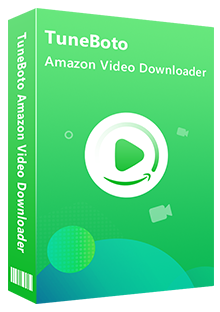 Amazon Video Downloader
Download Amazon movies & TV shows to computer

Support downloading Amazon videos to MKV/MP4

Keep audio tracks and subtitles

Download videos in batch at a fast speed

Free upgrade and technical support
Step-by-step Guide on How To Download Rented Amazon Movies with TuneBoto
The following is the detailed tutorial to guide you to download rented movies and series from Amazon as MP4 files to watch offline with the help of TuneBoto. Please download the TuneBoto Amazon Video Downloader program first before getting started.
Step 1 Open TuneBoto Program
Install and run the TuneBoto program, then sign in with your Amazon account after hitting "Sign In".
Note: An Amazon account is required for downloading rented videos. But please don't worry about it, the program will not take any information from your account other than the videos.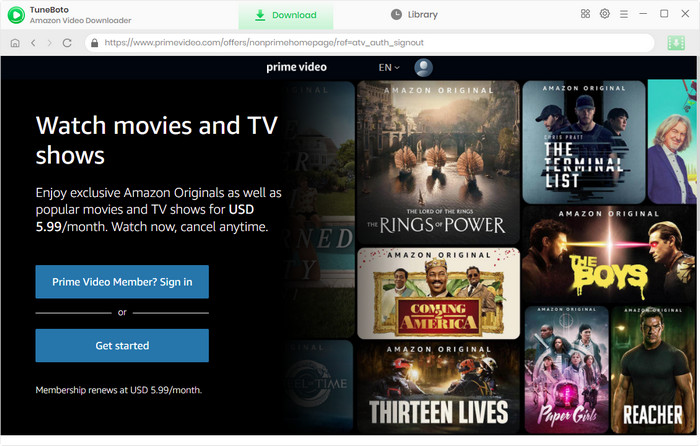 Step 2 Select Download Settings
Different from the official apps, you are entitled to select output format as MP4 or MKV, output quality from High to Low, specific output folder, and the language of audio, and subtitles tracks and so on. All you need is just to click on the gear icon on the upper right corner to set your preferred settings. By the way, setting up the right Amazon Website is also important.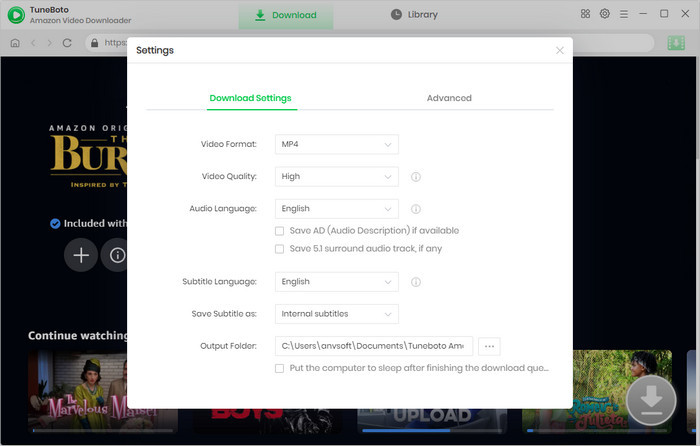 Step 3 Search for Rented or Purchased Movie
Simply enter the video's name or keywords to TuneBoto's searching box. After that, please hit "Enter" on the keyboard and then you will see that the related Amazon titles are shown on the main interface.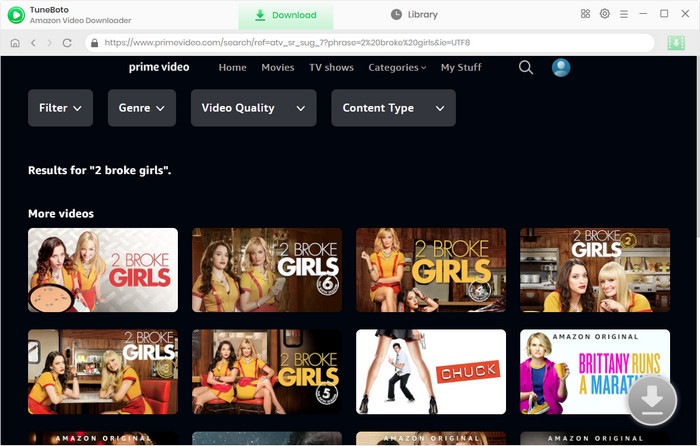 Step 4 Start to Download Rented or Purchased Amazon Movies
No need to worry about whether the video is available for download on Amazon apps. As long as the video is playable, TuneBoto will be able to download it for you without hassle. To do this, just select the video that you want to download from the searching result, then simply click on the "Download" icon when it turns green. By the way, there is also an amazing function called "Advanced Download" that allows you to select specific output sizes, types of audio tracks, etc. After minutes, your rented or purchased Amazon movie will be downloaded to your local computer drive in MP4 or MKV format with satisfying audio and picture quality.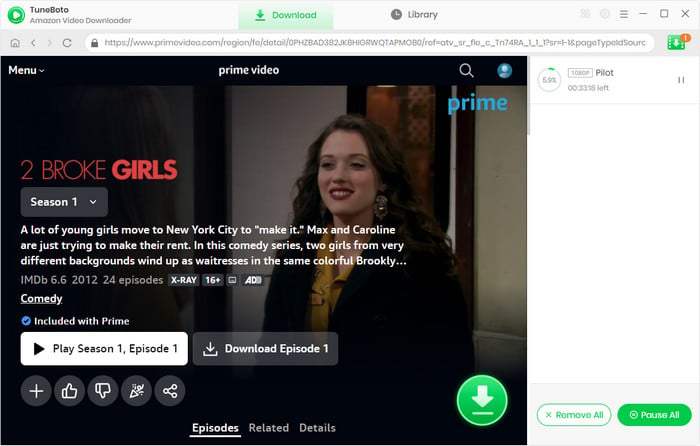 Step 5 Find the Downloaded Amazon Video
After the Amazon video you selected is downloaded to the computer successfully, just tap on the "Library" tab on the top and you'll find all the target Prime videos listed. Click the "Folder" icon next to each title and you'll be directed to the output folder on your local computer.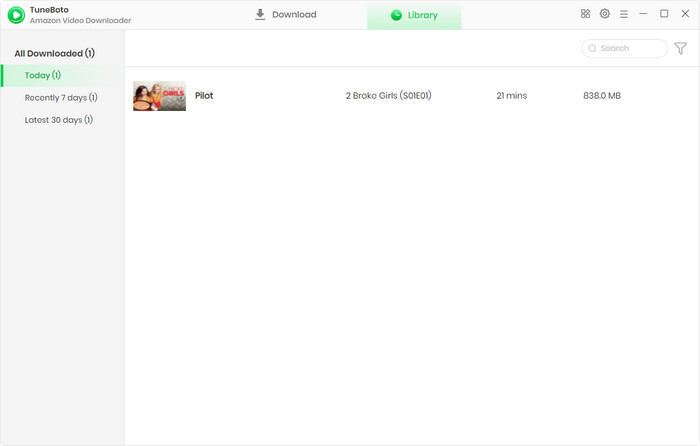 Furthermore, the downloaded Amazon movies in MP4 or MKV format can be directly opened by clicking the thumbnail on the "Library" tab. Finally, your rented or purchased Amazon video has actually been owned by yourself. You are truly empowered to watch Amazon video anywhere anytime, you can also transfer the downloaded file to any of your devices for watching on any of your media players.
Conclusion
We hope that the tutorial above will help you take advantage of Amazon's low rental prices and TuneBoto's excellent downloader to save Amazon rented videos forever on PC or Mac, which will be much better and money-saving than buying movies on Amazon at unnecessarily high prices. If you are interested in TuneBoto's product, just click the "Try it Free" to have a try. TuneBoto will not let you down when you put your trust in.
Note: TuneBoto provides a free trial version, with which you can download the first 5 mins of each video in HD quality. It is suggested to download the trial version first to test whether it meets your needs for downloading. And you are welcome to buy a license to get the full video.