Updated: September 08, 2023
Whether breaking out a long road trip, driving the daily commute, or just going around the corner to grab some coffee, the first thing most people do when getting in the car is to play music. And if you are an aficionado of Amazon Music, then streaming popular Amazon songs in the car player will be a great pleasure. There're various methods to play Amazon Music in a car from Google, and here we will explore the 5 most efficient solutions for you below.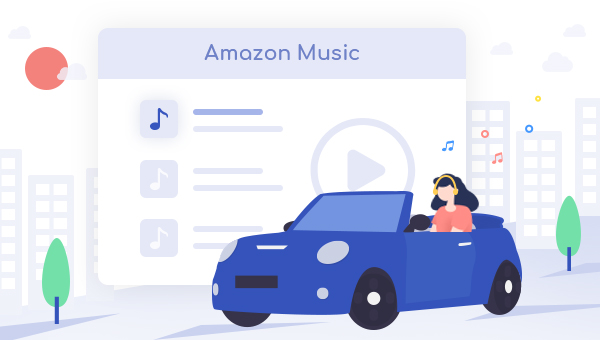 Method One: Connect Amazon Music to Your Car with a Cable
If your car has an AUX or USB socket, you can directly connect it with your phone via a cable to sync playing Amazon Music in the car. By far, this is the easiest way to play Amazon Music in your automobile. But before connection, please make sure you have the correct cable for your vehicle by checking the manufacturer's instruction.
Tips: You can directly adjust the track selection on the car stereo's control panel if you connect your smartphone via USB cable. While if your phone is connected via AUX-IN cable, you can only control the volume on the car stereo. To skip forward or back a track, you have to do it on your smartphone.

---
Method Two: Play Amazon Music via Car Mode with Bluetooth
If you forgot to bring with a USB cable, then just use the Bluetooth function to go wireless. Car Mode is now available in Amazon Music on iOS and Android, and it's easily connected with your auto by Bluetooth.
Step 1 Turn on Bluetooth on both your mobile device and car stereo.
Step 2 At the bottom of the next screen on the smartphone, you'll find a list of available Bluetooth devices. Locate your stereo in the list and select it (enter the pairing code if needed).
Step 3 Then just launch Amazon Music app on your phone, tap on the "Menu" icon at the upper right corner, then "Car Mode".
Step 4 Now, you'll just need to start a music track on Amazon Music, and it will be synced to your car with ease.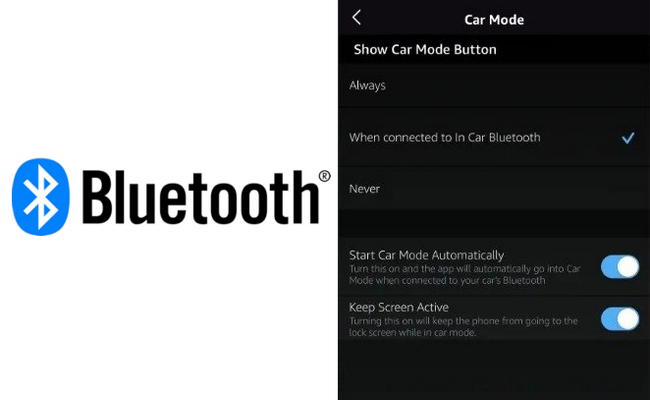 ---
Method Three: Stream Amazon Music in the Car via Apple CarPlay
Currently, Amazon Music is ready for your listening pleasure with Apple CarPlay. You can listen to the popular Amazon playlists in the car via this feature by following the steps below:
Step 1 Log in to the Amazon Music account on your iPhone.
Step 2 Connect your iPhone to the CarPlay compatible stereo via a USB cable or wirelessly Bluetooth.
Step 3 Go to "Settings > General > CarPlay" on iPhone, and select your car stereo option.
Then you are able to choose your favorite Amazon Music tracks on the stereo display for playback or directly command "Siri" to help you out.
Tips: If your car supports Android device, you can use the same steps to use Android Auto above to sync Amazon Music from phone to car easily.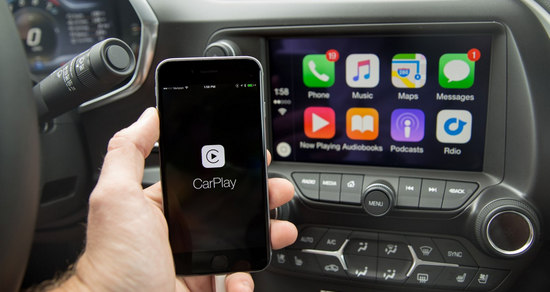 ---
Method Four: Play Amazon Music in the Car Through USB Drive
Amazon Music supports to download tracks offline for saving users' data. But it's tricky to download and transfer Amazon Music songs to USB drive for playing in automobiles. Why? Simple because all of your Amazon Music files are encoded, confining users to moving the downloaded tracks to other music players for streaming. In this case, firstly you are required to record your entire Amazon Music library as the plain music formats before transferring them to USB stick. After that, you could play Amazon Music offline in car.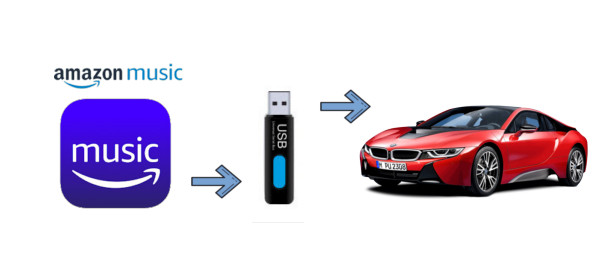 Tool Required: TuneBoto Amazon Music Converter
To record and download Amazon Music in open music formats, TuneBoto Amazon Music Converter is highly recommended. It's a top-rated audio recorder specifically designed for both Amazon Music Unlimited and Prime Music users to record any songs, albums, or playlist in MP3/AAC/WAV/FLAC/AIFF format with ID3 info kept. With the independent ability to complete the whole process of Amazon Music downloading and recording, no additional apps (including Amazon Music) is required. With the help of such a smart tool, you can transfer all of your downloaded Amazon Music to USB drive for streaming in the car without any limits.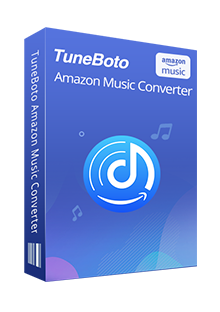 Amazon Music Converter
Convert Amazon Music songs & podcasts to MP3, AAC, WAV, FLAC, AIFF, ALAC

Works on Amazon Music Unlimited & Prime Music

Keep ID3 tags and lyrics; Retain lossless quality up to HD & Ultra HD

Support both Amazon Music app and the web player

Archive downloaded songs by album/artist/playlist

Handy tools: Format Converter, Tag Edit, Burn CD and Export to iTunes/Music
Tutorial about How to Transfer Amazon Music to USB Drive for Playback In-Vehicle:
Step 1 Download and launch TuneBoto Amazon Music Converter.
There are two working mode for you to choose: Amazon Music App and Amazon Music Webplayer. The former supports downloading Amazon Music up to Ultra HD at 5X speed. The latter supports downloading Amazon Music up to HD at 10X speed. After choosing mode, log in to your Amazon Music account in the app or webplayer.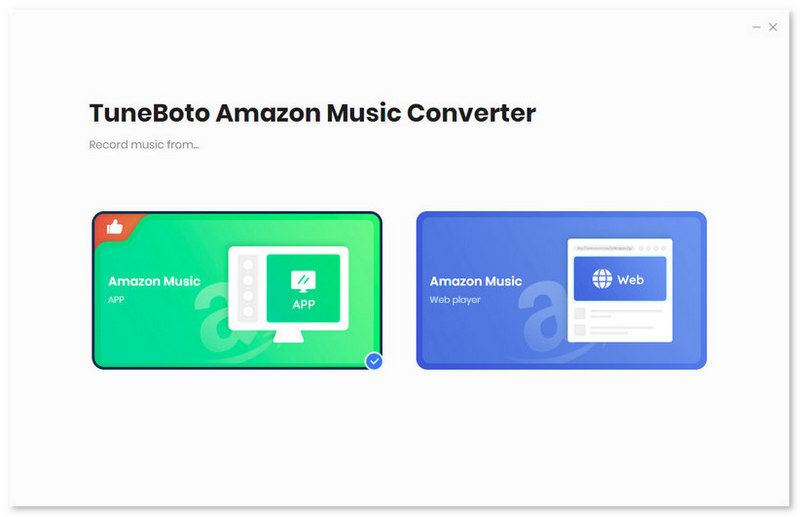 Step 2 Click the "Settings" tab on the bottom-left to choose output format (MP3/AAC/WAV/FLAC/AIFF/ALAC), output path, output quality (320kbps, 256kbps, 192kbps, 128kbps) and more.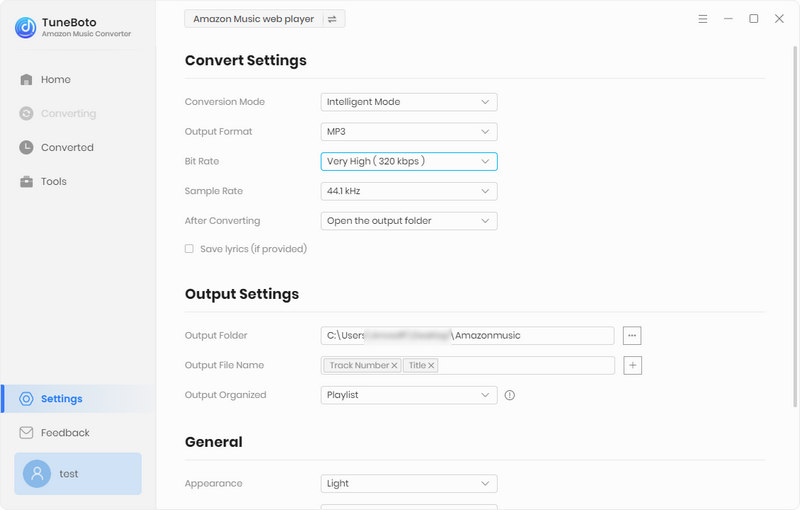 Step 3 Select Amazon songs you want to convert.
For app mode: Select one playlist/album you want to play in car in the Amazon Music app. Then drag it to TuneBoto's interface or copy the URL. Select songs you want in a new window and click "Add".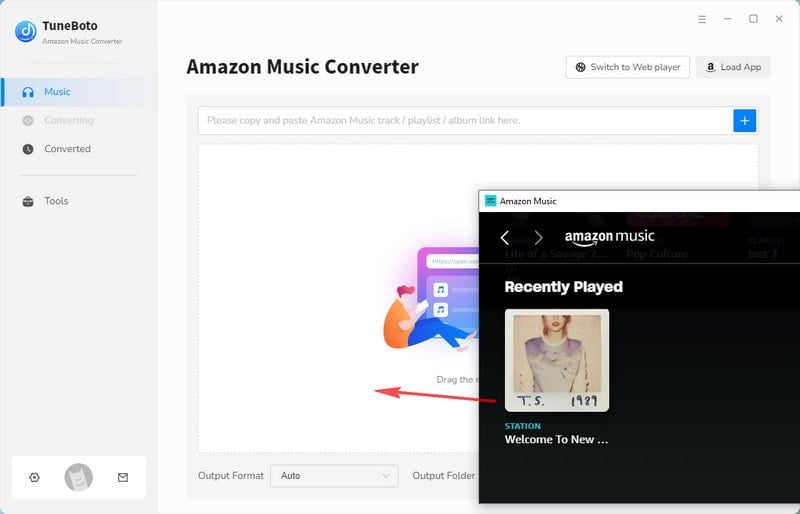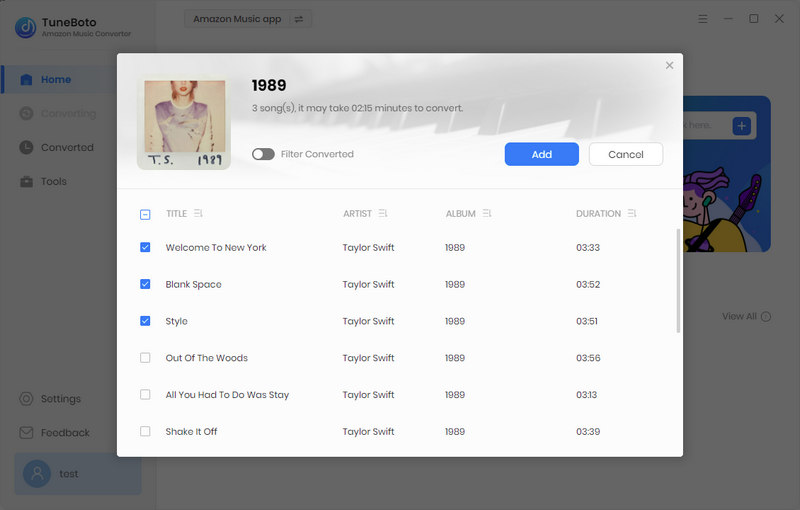 For webplayer mode: Open an Amazon album, artist or playlist you want to play in car in the webplayer, then tap the blue "Click to add" button and select Amazon songs you want to convert. Then click "Add".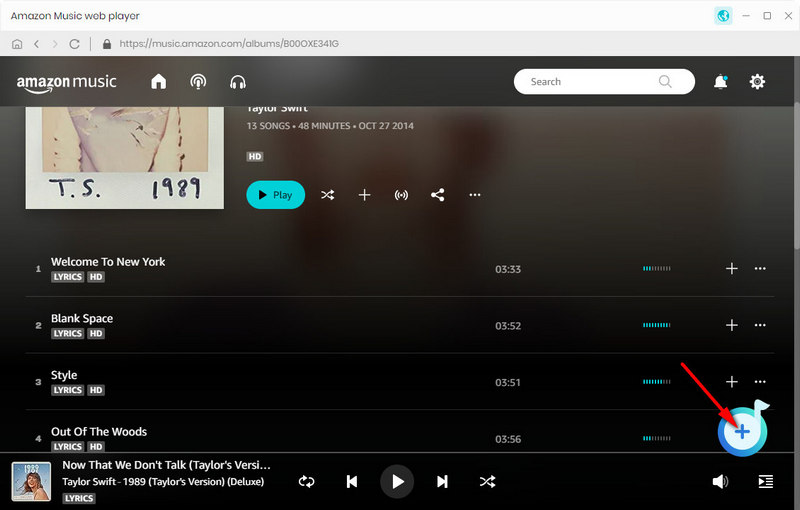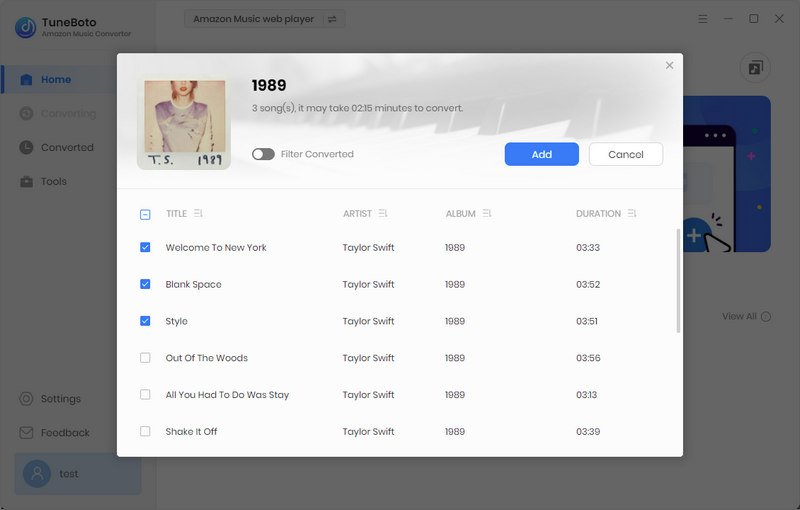 Step 4 When finish selection, click the "Convert" button to start conversion. After a few minutes, you can find out the recorded Amazon Music tracks by clicking the "Converted" section.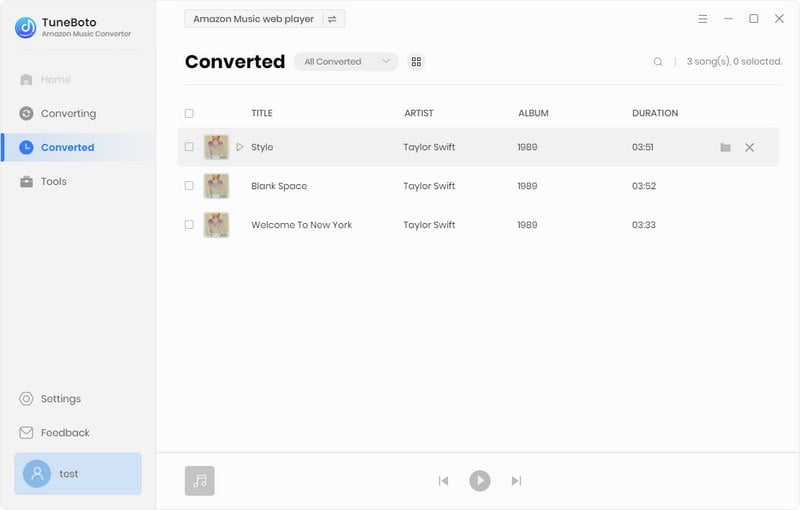 Step 5 Transfer the downloaded audios from computer to USB drive, then directly plug the USB drive in your car to start enjoying Amazon Music songs.
Detailed tutorial: How to Transfer Amazon Music to USB
---
Method Five: Burn Amazon Music to CDs to Play in the Car
Except for saving songs in a USB stick for playing in automobile, you can also burn Amazon Music to CDs for enjoying the drive. But again, Amazon Music doesn't provide access to burn the encoded songs to CDs. Thus, to make things smooth, you will also need the smart TuneBoto Amazon Music Converter to record Amazon songs first. After converting Amazon Music albums to plain MP3/AAC/FLAC/WAV/AIFF/ALAC, you will be empowered to easily burn them to CDs by one of the following three ways:
Detailed tutorial: How to Burn Amazon Music Song to CD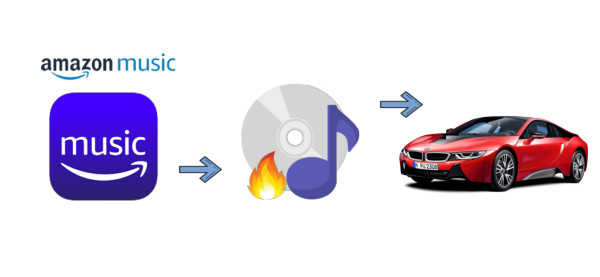 1. Use TuneBoto Amazon Music Converter to Burn CD
Step 1 Insert a blank CD in your computer, and make sure your CD is writeable.
Step 2 Open TuneBoto on computer and choose Tools section in the left panel.
Step 3 Select Burn CD in the section.
Step 4 Select Amazon Music you want to play in car and add them into the list. Once you add all the songs, click Burn.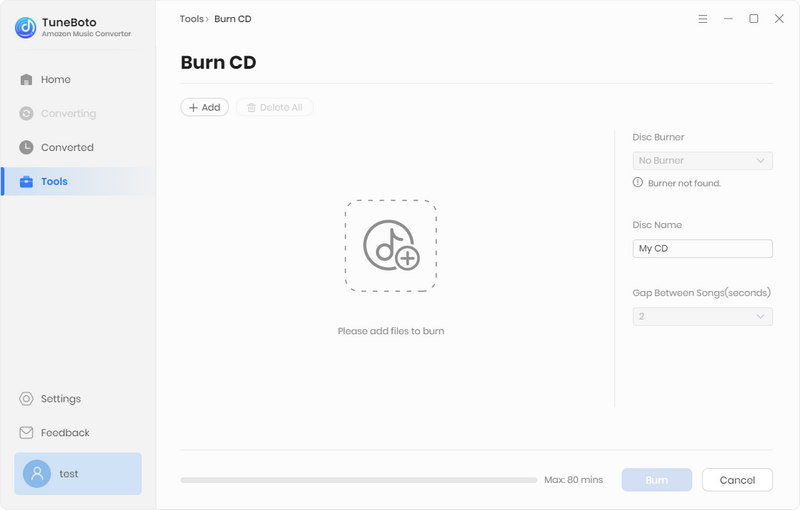 2. Use Windows Media Player to Burn CD
Step 1 Insert a blank suitable CD or DVD in your computer CD/DVD-RW drive, and make sure your CD & DVD is writeable.
Step 2 Launch Windows Media Player on computer and click the "Burn" button in the right pane.
Step 3 Find out the converted Amazon Music songs, drag them to the Burn Pane.
Step 4 Select "Audio CD" from the menu and click the "Start Burn" button.
After the progress is done, just insert the CD to your car and it's about to enjoy Amazon Music tracks now!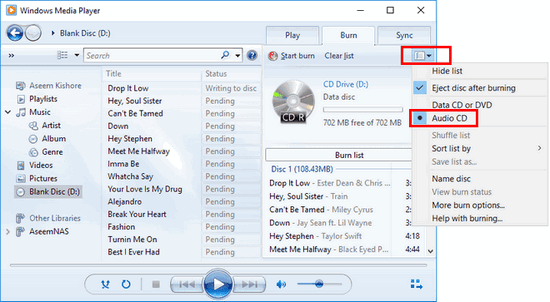 3. Use iTunes to Burn CD
Step 1 Install and run iTunes. Go to "File > New > Playlist" on iTunes, enter a name for the playlist, then drag and drop the recorded Amazon Music songs into it.
Step 2 Insert a blank CD into your computer. Right-click the playlist you just created on iTunes and select "Burn Playlist to Disc".
Step 3 A new window will pop-out which lets you choose your preferred speed, disk format for burning Amazon Music.
Step 4 Hit "Burn" and wait for copying Amazon Music to CD.
When the burning process is done, just start streaming your favorite Amazon songs in the car by inserting the CD.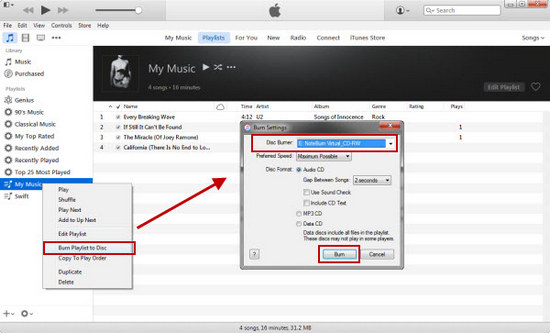 Final Words
Above we've listed 5 methods to help you play Amazon Music in a car. Just select the feasible one and start enjoying Amazon songs during the long drive! For those who would like to keep Amazon Music playable forever, it's advised to record songs in common music formats with TuneBoto Amazon Music Converter first. TuneBoto offers the free trial version for users to test its features. Now, give it a shot!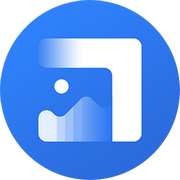 Still troubling with the unclear album cover and would like to improve it? Here we recommend the Album Cover Enhance AI to upscale album art in the best quality, make the old, blurred, or low-quality photos to high-definition.